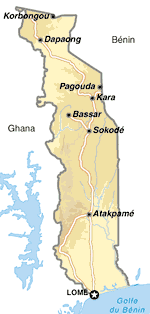 Dec 18: Cinkasse-Dapaong
On Wednesday, Greer and I got up bright and early to start our trip. We biked down to the taxi station and put our bikes on top of an eight-person van to ride up to Dapaong. To say that this taxi was an 8-person van is a bit of a joke, because, true to Togo custom, there were 11 people and a baby shoved inside for the five-hour trip. Greer and I were actually surprised that there was no livestock inside, too. We dropped all our stuff at the PCV house in Dapaong, then decided that, since it was only 3:00, we should go ahead and bike the first 20 miles of our voyage from Burkina Faso to Dapaong. That's what happens when Type A personalities travel together.
So, we headed out in another van, this time a 10-placer with 17 people and two chickens shoved inside. Although we could see the border, we couldn't actually get there to take our picture next to a "Welcome to Burkina Faso!" sign or anything. One bordercrossing guard told us that the border was on up ahead, but another one was a bit crabbier and decided to parade around what little power he has by threatening to lock Greer in prison because she didn't have her passport on her. We managed to joke our way out of the whole thing (they really warmed up to us when we let them take photos of us with our cameras), but didn't feel comfortable taking them up on their offer to go on up to the border. We decided that a photo of us at the customs house one beside a sign that said Cinkasse (the border city in Togo) would be enough to prove to you all that we actually biked as much of Togo as one can without getting herself thrown into a corrupt developing-country jail.
The ride to Dapaong was a relief after being in a bush taxi for over 7 hours that day, but it soon turned out to be a real pain. Since neither of us had ever been to Dapaong before, we didn't realize that the Route Nationale actually splits around the city. We unknowingly took the Dapaong bypass and then followed someone's wrong directions (in Togolese culture, it is shameful to admit that you don't know something, so the guy probably just had no idea where the Dapaong taxi station was), which landed us outside the city, lost, in the dark when my headlight batteries finally died, and down a long hill that we had to creep back up when we figured out we'd accidentally driven through one of the five biggest cities in Togo. Oops! Actually, I said a lot of words around that time, and a cheerful oops! was not one of them. We were tired, thirsty, hungry, angry, and scared that Peace Corps would kill us when they found out how many rules we were breaking (we are forbidden to travel at night, especially without a headlight, and both are late in turning in our vacation forms).
Anyway, we made it back to the PCV house safely, thanks to the full moon, a couple of grapefruit sodas, and a nice lady who told us where we were.
Dec 19: Dapaong-Mango
Practically the first thing I did on Thursday was break the valve stem off my front innertube as I aired up my tires. Thanks to my aforementioned Type A-ness however, I was carrying an extra. That got us off to a bit of a later start than we'd planned, but it gave the taxidriver time to bring by the novel I'd left in his taxi the day before.
We started rolling around 9:30 after plopping down on a market stand for peanut butter and honey with bread. This section of the Route is the worst in the country--scarred with big pot holes that cause taxis to swerve all over the place. Luckily, there wasn't much traffic, so we felt very safe. I am not going to tell you that I had several hours of biking to learn to ride with no hands because riding with no hands is against Peace Corps rules.
The reason we chose this particular time to begin a huge trip through Togo is because the Mini-Hot Season (Petite Chaleur) that followed the Rainy Season has given way to Harmattan. Harmattan is when the dusts from the desert cloud the sky so thickly it looks like a pea-soup fog. Mountains popped out of the mists as we biked, as if they were magical kingdoms. The best thing about Harmattan is that the dust blocks out the sun, so it's cooler, and there is no chance of rain. Although I'd been mistaken in assuming that Petite Chaleur would bring 120° temperatures (it turns out those those don't come until April), I am enjoying the chill of mornings when I wish I'd packed a long-sleeved shirt to bike in.
The bad thing about Harmattan, though, is that finding water is a challenge, especially in the North. We biked over one river bed that must have been 30 feet wide during the wet season where three women had dug a deep hole to ladel water into their headbasins. In order to travel as lighly as possible, Greer and I each carry two Nalgene bottles that hold a liter as well as our two bike bottles that hold 1.5 liters together. Every time we empty a liter, we stop at the nearest stream or pump or well to refill. I have a camping waterfilter which fills up a bottle in no time, but it still takes an hour for bleach to kill other things the filter can't remove, so we have to stay on top of the filtering process.
There is a PCV who offered to let us crash at her house in Mango for the night. We were starving, so the goat meat on a stick street vendor was a welcome site. Honestly, though, the sauce the guy had marinated the goat meat in was very good, so I think we would even like the stuff if we weren't hungry. Dinner was fabulous after that, though, because Juliana made us a pesto sauce for spaghetti that included sausage links made by nearby nuns. We slept hard that night, not only because we'd biked 71 kilometers on a rough road, but because we knew we had another 88 to go the next day.
Dec 20: Mango-Kanté
The road from Mango to Kanté (or Kande) was better paved, but more uphill than previous day. We had to bite our lips not to complain, though, because we knew the real uphill would be the mountain on the following day.
At one stop for water, we saw a bunch of Fulani (a nomadic tribe) women doing laundry. When we got closer, though, we realized they had dug a small well for the occasion. A kid was standing about chest-deep dipping out water with a gourd for the women's basins above. They were very intrigued by the two ghost-white girls on bikes, and especially by those white girls' waterfilter. I took a photo of some of the kids pumping it and watching the water come out the tubes.
There are no PCVs in Kanté, so we stayed in a hostel for $1.00 each. It was way more comfortable than either of our posts, complete with electricity, a fan, and running water, so we were very willing to fork over the 3000 francs.


Dec 21: Kanté-Kara
Ever since Thanksgiving when Greer and I went through Kanté to Kelly's house, we'd dreaded this Saturday's uphill climb. We took a photo of ourselves next to the "10% Grade" sign before crawling up, in low gear most of the way. Because we had wanted to get to the summit before the eighteen wheelers, we waited to have breakfast at the top. There was no more fitting place than under the skull-and-crossbones "choose low gear" sign. The trip up the hill had taken just over an hour, and then it took only seven minutes to coast down the other side. That was a rush, and the total lack of traffic was a welcome relief.
We took a slight detour off the main road into Pia, the hometown of Togo's president. The entrance to his personal residence was amazing, framed with marble and a lion on each side of the gate, with a fountain just in front. I would have taken a photo, but there were armed guards all over the place. I didn't even dare photograph the President's flower garden, which smelled sweet and looked lush even in the midst of Harmattan's brown barenness.
Greer's post is between Pya and Kara, so we stopped by there on our way to the Kara house. Our grand entrace to Kara felt like a homecoming, and it was so good to plop down on our own floor, eat a ham and cheese sandwich at Marox, and rest.
Dec 22: Kara-Bafilo
I biked this section of the trip alone since Greer lives on the North side of Kara. That gave me a whole day off (the 23rd) to prepare for the Christmas Eve festivities.
Dec 24: Bafilo-Koumondé
After updating the site, I took a taxi to Bafilo where I met Greer. We rode our bikes up the steep mountain to Koumondé, where we could park them at another PCV's house. Our rationale was that we wanted a head-start on the most dangerous section of our trip: the Faille d'Aledjo. Basically, it is a small mountain where eighteen wheelers regularly turn over, so we wanted to get through it as early as possible, before the trucks from Kara had a chance to get there.
We left our bikes at Dario's house and then took a taxi back down the mountain to Becky's, where we had a delicious Christmas Eve dinner. Becky deep-fried a turkey, we had mashed potatoes, sweet potatoe casserole, salads, soup, and lots of dessert. Fantastic!
Dec 25: Koumondé-PCV Kara's house in Babadé
Our paranoia about the Faille d'Aledjo turned out to be unwarranted because all 18-wheeled traffic was blocked by a transfer truck that had overturned on the mountain the night before. That means that the only other people on the road were small taxis and perhaps three 18-wheelers who had managed to reach the truck stop on top of the mountain before the accident. We were actually glad to have those few trucks because we could tail them all the way down. I am too chicken to draft off a truck, but one of my favorite things to do is to ride right behind one so that any cars that want to pass me also have to pass the eighteen-wheeler. That makes it so that cars can't rub you off the road the way they are happy to do otherwise. The right of way in Togo goes to the largest vehicle, so I have found tailing trucks to be a safe way to get myself through zones (such as arriving in Kara) where passing other vehicles is common.
We actually arrived in Sokodé so early that we were afraid our friend Kara wouldn't be at her post when we arrived. That gave us time to take a three-hour nap. Turns out that we had misjudged the distance from Sokodé to Babadé however; it's acutally 37km instead of 12km, which meant that we ended up biking the last half hour in the dark. Not fun. We both had headlights, but that's always a secondary option.
The villagers along the way to Kara's certainly got a kick out of us, though. They were all dressed for Christmas, and two separate villages ligned up on the side of the highway as we passed cheering for Baba Noël. Best we can figure, two white girls on snazzy bikes looked pretty much like Santa Clause to them.
Dec 26: Babadou-Atakpamé
Our original plan was to stop in Langabou for the night and continue on to Atakpamé the following day. That would make two stints of about 70km. It became pretty obvious, however, that Langabou is just a little speck on the map. Since there was no hotel, we decided to push ourselves and get to Atakpamé where there is another PCV house. The good side is that we could stay in a cheap, safe house with other PCVs. The bad side is that we had to bike 144km to do so, the last five kilometers of which were in the dark. We made it though, and since our Type A personalities had once again landed us a day ahead of schedule, we took the following day to rest and recover.
Dec 28: Atakpamé-Tsevié
Once again, our plan had not been to make the entire 120km trip from Atakpamé to Tsevié, but there was no hotel in Gamé. I had orginally thought it would be a good idea to pay someone to let us sleep on their porch, but it had been so chilly for the last few nights that Greer and I, who had both been sick for a few days of hard biking, thought it a better idea to head for Tsevié. Although it is only 35km from Tsevié to Lomé, we didn't want to go straight through Tsevié because that section of the Route is very conjested. There wasn't enough time to make it to Lomé via our detour before nightfall, so we just stayed in a hotel for $2.50 each. It was particularly worth it because the hotel was right next to an ice cream parlor--yum!
Dec 29: Tsevié-Lomé
Just south of Tsevié, we took a dirt-road detour to the road that links Lomé and Kpalimé. It added 20km to our trip, but we had heard that the section of the Route between Tsevié and Lomé is terribly congested with no shoulder for safety. The dirt road gave us a chance to check out some of the lush Maritime Region countryside, which was enjoyable, and only slightly spoiled by four road workers who tried to trick us into paying to cross a bridge.
We were glad to reach the pavement again, though, and even more happy as the road signs click down toward Lomé. We arrived in Lomé around noon, checked ourselves into the American Boarding School hostel and took showers. As much fun as the trip had been, we were glad to be out of the traffic, which had gotten progressively thicker near Lomé
Dec 30: Victory brunch at the Sarakawa