Phynessa Wins!

... But then again, sometimes it is very good to be Phynessa. Take the Fourth of July for example. Sure, I had gone to Lomé in a cold sweat over some loan deferment papers that needed to be signed and stamped by Peace Corps, but I had a great time after getting that under wraps:

I bought some excellent high heels to wear to my French sister's wedding, and a kickin' pair of boots to wear whenever I can find an opportunity.

Then I took a hot shower, one of my favorite luxuries.

I helped decorate the Ambassador's house, then went to his house for the 4th of July party, after another hot shower of course. The party was lovely, and the new Ambassador delivered a moving speech about governments For the People, By the People. (Incidentally, the US government has not yet recognized Togo's recent elections as free or fair.) This was my third occasion to hear a US Ambassador to Togo speak (twice this ambassador, once his predecessor), and I have yet to be disappointed. Each time I have left with a renewed sense of fighting a good fight, representing a good cause.

After the party, I took another blessed hot shower and woke up early for my second favorite guilty pleasure in Togo--the Sarakawa Hotel breakfast bar.

Four of us arrived around 6AM and the staff recognized us right away: "Are you Peace Corps?" We said yes, and they seated us just next to the buffet, probably to keep us from wearing out the floor tiles as we roamed back and forth and back and forth. We had a positively lovely four hours grazing there, then took some boiled aggs and bananas to the beach, where I spent a positively lovely 6 hours basking the equatorial sun with some of my dearest friends.

When baked beyond fear of salmonella contamination, I went back to the American School hostel and took another hot shower. Then for the first time in over a year, washed and dried my laundry in machines. How magnificent--it took only 2 hours to do, and I could do other things such as take another hot shower, in the mean time!

I dressed in my new rockin' knee-high boots and went out for meat (probably chicken, but best not to ask)-on-a-stick and chocolate ice cream for dinner. Finally, I met Becky at the Palm Beach Hotel for cappuccino.

Really, the 24 hours I was awake between the afternoon of July 4th and evening of July 5th made up the best day I had spent in Togo so far! It was definitely a day to be Phynessa.

And Phynessa has won since then, too. Kate, one of my longest (the word "oldest" just doesn't fit) friends came to Togo to visit me for two weeks. Having a slice of home, of middle and high school, and (most importantly), of Former Phynessa in Togo made Togo more real. Two weeks later I went to my French sister Séverine's wedding. And two weeks after that, Mark, another long-time friend, came to Togo with me. I promise to write pages on Kate's visit, my magical vacation in France, and Mark's visit.
Séverine and Cédric d'Ouince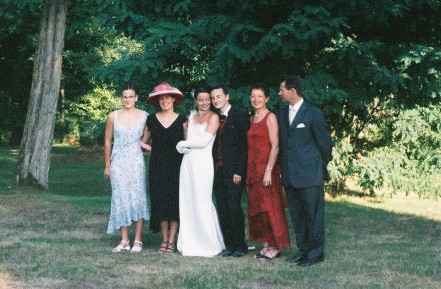 Anne-Lise, Lucille, Nicole, and Jean-Claude


I wish I could end my update there, with my winning for four weeks straight, planning to win for the next four weeks of Mark's visit, but I actually have to report a little bad news first, right after I assure everyone including our mothers that we are alright. Last night when we came into Lomé, I made Mark walk across the street from the airport where the taxis to our hostel are 1000 CFA (a fifth of our daily pay) instead of 4000 CFA (four fifths of our daily pay). A taxi with three men plus the driver stopped, and told us he would take us for the right price. I argued that 1000 CFA is the price if you have the car to yourself, so the others said they were getting out at the next intersection, and we climbed in. I had our two gigantic bags in the back with two of the other Togolese men, so they insisted Mark sit in the front. Since they were getting out soon, they put him in the middle, next to the gear shift. The driver drove a few yards, fumbling around and complaining that Mark's legs were in the way. He finally said that he couldn't control the car well enough and taht we would have to get out. I said alright, threw our bags out onto the ground and Mark started getting out, when it hit me that the car was not over-charged by Togolese standards. I yelled, "Mark, check your wallet!" and as soon as I did, the guy in the front passenger's seat threw Mark to the ground and jumped back in. I grabbed onto the car frame where the cardoor was still open, and ran along yelling for the guy to stop. He didn't slam the door on my hands, but I was being dragged along, mostly on my purse, until a couple of attempts at a horizontal pullup failed and I rolled off onto the road 50 feet away. I looked for the plate number, but the car was too fast and it was too dark to see.

My knees were raw, I had roadburn on my abdomen, and some dirt and small pebbles were embedded in my hands, but other than that, I was alright--no fractures, and not even any bruises. Even in that state, it was hard to get a taxidriver to help us, but I finally convinced the third guy who stopped to take us to the Med Unit for 1500 CFA. I guess two white people in distress are a bigger target than two regular white people.

The Peace Corps nurse came in and cleaned me up, and the Peace Corps Director came down to help Mark cancel his credit cards. In all, the only things we lost were $60, his driver's license, and school ID. No biggie. His passport and plane ticket were safe.

The nurse cleaned me up again today, cut off some of the hanging skin, and wrapped me up like a mummy. I am fine, but really angry at myself for getting hurt. My first ever martial arts teacher told our class that we were never supposed to fight for our possessions, that as long someone wanted our stuff, that we were supposed to just let them have it and reserve fighting for incidences when someone was determined to hurt us. But somehow I forgot that and decided to try to stop a car wit my bare hands, then try to get four guys to give back a wallet. That was stupid, stupid, and I hope that being bandaged up for a few days will teach me my lesson. I hereby promise not to ever do that again!

As I said in the beginning, Mark and I are alright. We were pretty shaken up last night and had trouble sleeping, and we are pretty paranoid today. We've gone through a million permutations of the events--things we could have/should have done, but that is only keeping us upset. I vote we just count it a lesson learned for the one-time price of 60 bucks, and make better decisions in the future. That is my promise to my parents and Mark's parents and girlfriend--to make better decisions in the future, especially during the next 28 days while Mark is visiting me.
-Phyn